The Titan Easy-On Prong Training Collar is the perfect tough, safe and effective training collar for your willful dog. This chrome-plated collar features a nylon loop for optimum durability and strength, and will not tarnish, rust or break.
Provides safe, effective restraint for training
Chrome plated prongs for maximum strength and durability
Nylon loop with buckle for easy connection and removal
The loop and buckle make connection and removal quick and easy. This collar is safe and humane for dogs.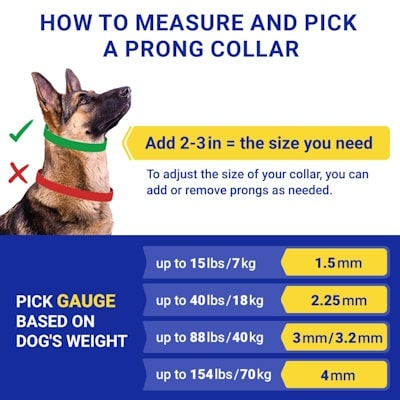 Please put a measuring tape closely to the fur right behind the ears and under the jaw.
Mind that two fingers should slip between the collar and the dog's neck. Or you can measure his neck and add two inches.
When the collar is on his neck it should allow you to slide two fingers under the collar and your dog's neck.
If there's extra room, you need a smaller size and you should remove links.
If both fingers don't fit, the collar is too small and some links should be added.